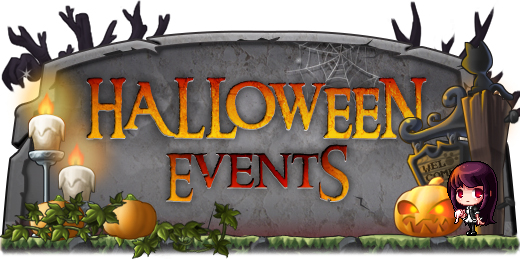 October 16 to November 5
It's Halloween, and Maple World is full of creeps… Creep-tacular costumes, eerie-tastic events, and spook-ilicious treats, that is! Participate in a bucketful of events and gorge yourself on goodies, including chairs, mounts, consumables, equips, and buffs.
MapleStory Halloween Art
We have some special Halloween art for you! Show off your holiday spirit MapleStory style on Facebook, Twitter, Tumblr or your desktop. Click the images below to download the art.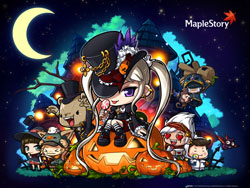 A Fine, Fine Costume
Easiest event ever! Just talk to the Maple Admin to get a free Halloween costume! A heavenly angel, a paper box, a cow, and more… What will YOU be?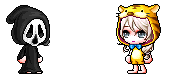 Witch Malady's Secret Mission
Help Witch Malady whip up her creepy food concoctions by collecting ingredients from the Frogs and Black Cats sneaking into major towns, as well as various ingredients from monsters around Maple World.

Olivia's Haunted Mansion
Return Olivia to her family by battling maniacal monsters inside her Haunted House!

Prank or Treat
What are monsters doing with so much Halloween Candy?! Dropping them for YOU, it seems! Collect Halloween Candy from monsters around your level and exchange them for Halloween Surprise Boxes. Inside these boxes, you'll find anything from recovery items and seasonal equips to Witch's Broomstick mounts and Pumpkin Chairs!

Maple Action Hero!
Want to be a Halloween hero? Then click the invitation zooming over your head to move to the event map! Complete the obstacle race within 5 minutes to get a Dance Lord Gift Box. Possible rewards include recovery items, scrolls, chair bags, title bags, and Phantom or Aria mount coupons. Don't worry if you don't make the 5-minute limit, players who lose the race still get a Halloween Surprise Box just for participating.

Cassandra, Lord of Candy
If you hoard all the candy to yourself, you'll rot your teeth, so be generous and pass out Boo Buddy Candy to your friends instead. For every 5 times you give candy, you'll get a Candy Keeper Box, which could contain recovery items, scrolls, candy, or Halloween Buff coupons. If your friends give candy to you, you can use it to get buffs!

Halloween Dance Lord
Don the Halloween costume that the Maple Admin gave you, and then click the invitation over your head to participate in the Mega Creamy Ghost Expedition! Eliminate Mega Creamy Ghost, the boss monster in Maple Castle, within the time limit to get a Halloween Dance Coupon, a Dance Lord Gift Box, and some Boo Buddy Candy!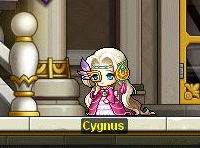 Masked Insanity
Collect Halloween Mask Fragments by participating in the other Halloween events. When you've got enough, double-click on them to get a Venezia Dream accessory!

Halloween has invaded the Cash Shop, too! Check out these haunted goodies available starting October 16.